---
The Complete Guide to Booking
A Wedding DJ
---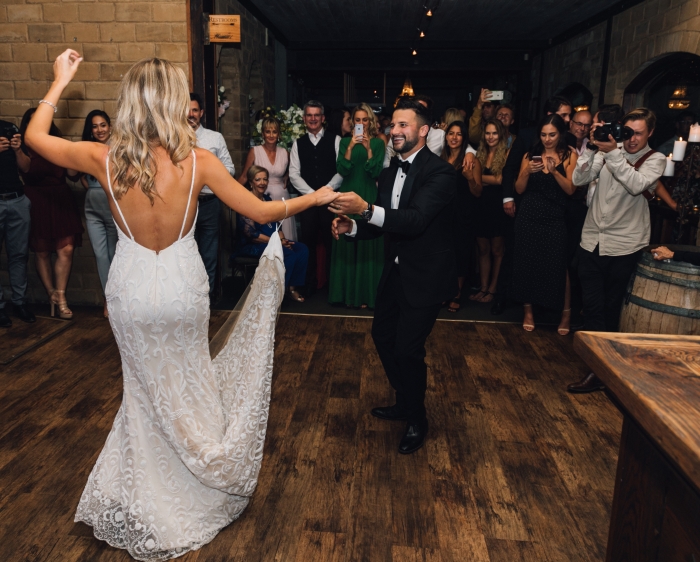 Your wedding day soundtrack is a crucial element of your big day – the right music will create ambience and enhance the enjoyment of you and your guests.
Wedding DJs are a popular option for any modern wedding, here's the complete guide to booking a wedding DJ.
Work with professionals.
Working with an experienced wedding DJ will allow your wedding day to flow smoothly and effortlessly. They know the drill: when to arrive and set up, how the day will pan out, and when to play the important songs (your first dance, reception entry, etc.). You can be completely hands-off and soak up the special moments of your ceremony and reception without any stress about the music.
You'll have peace of mind that your DJ will turn up on time, well-dressed, with everything they need for the day. While it's tempting to get a friend or someone you know to help with the sounds, leaving your wedding music in the hands of an amateur is risky.
Wedding DJs also bring a crucial skill to the table: they can read the crowd and keep guests of all ages happy. Crowd-reading and adaptability are developed with years of DJ experience, so it's essential to choose someone skilled, confident, and capable when it comes to weddings.

You get what you pay for.
Professionals may cost a little more – but you're paying for years of experience, quality equipment, and absolute professionalism on the most important day of your life. Think of it as a valuable investment for your day.

Double-check the details.
Always confirm what is included in your DJ package. Are you paying for the DJ alone, or does the price include all of the equipment? Clarify before you book, so you're not up for any extra costs down the track.
At Mix It DJ, our full wedding DJ service model ensures your celebration runs smoothly by coordinating, supplying and operating all sound, lighting & speciality equipment from beginning to end, leaving you free to revel in the occasion.

Check reviews.
So how do you know who's professional? A slick website and solid online presence is a great start. Checking Google and website reviews is a quick way to get an idea of the service you will receive – and don't be afraid to ask for additional testimonials.
Book ahead.
If you're planning a wedding, it's common knowledge that the best vendors get snapped up pretty quickly, especially through the popular summer months.
Once you've found the right company to take care of your wedding music, don't wait. Make your booking and tick music off the list. Most couples lock in their bookings six to twelve months before the big day.
Get involved – and ask the right questions.
Ask what genres of music your agency has available – make sure they can cater to your tastes and the varying stages of the day. Above all, your chosen wedding music needs to make you and your partner happy as you create meaningful, lifelong memories together.
We offer our clients the option of a 100% custom playlist, or the option to hand the reins over to us completely. Our clients can have as much or as little input as they want.
It also pays to check if your DJ has played at your venue in the past. It's a huge bonus if they know your venue well – they'll be familiar with the staff, and set-up and pack-down will flow easily. If not, consider doing a venue visit together to create a plan for the day.
Meet up before the date.
Any professional DJ agency will want to meet up with you before your wedding to learn more about you and your event. Be sure to share any special requests, your run sheet (if you have it ready), and any notes on the dress code.
During our client consultations at MIX IT DJ, we gather information about your event and music tastes to formulate your music themes.
If you have questions, now's your time. Wedding DJs can offer tips and advice to help with your planning and how things will run on the day – they may even be able to point you in the direction of other vendors if you're still on the hunt.
If the music's right, the crowd is happy, the dancefloor is pumping, and your guests will remember your wedding day for years to come.
Ultimately, you need to trust your DJ to do their thing. The professionals know how to select songs and read the room better than anyone. With the music in your DJs capable hands, you'll be free to enjoy your wedding day – and dance up a storm with your guests.
To learn more about MIX IT DJ, get in touch.
---
---