---
5 Reasons To Book A Wedding DJ
---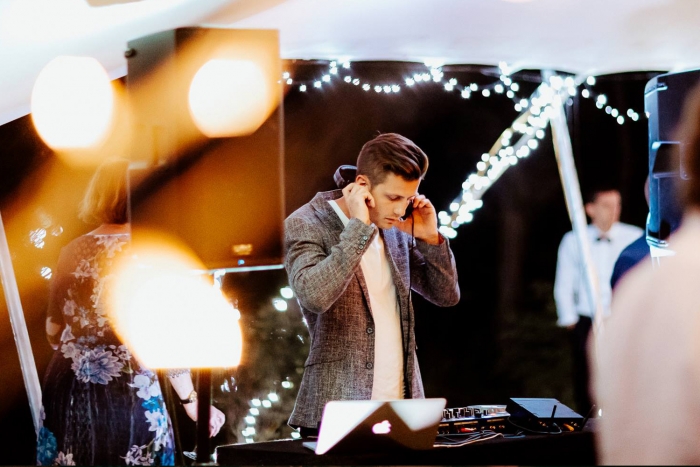 Amidst the planning that comes with a wedding day, the desire for your guests to enjoy themselves is at the forefront of any bride or groom's mind. Creating a vibe for your day is achieved with a multisensory approach: visual elements like flowers, decor, and bridal outfits play a significant role, delicious food and wine are essential, and your wedding soundtrack plays alongside it all, throughout the day.
Music isn't just background noise; it sets the tone and creates ambience for your wedding day. The soundtrack to your big day needs to flow, uplift, and adapt as the day and night evolve. Having the wrong music playing isn't just bad; it has the potential to be disastrous!
Above all, your chosen wedding music needs to make you and your partner happy as you create special, lifelong memories together. While it's tempting to get a friend or someone you know to help with the sounds, leaving your wedding music in the hands of a friend's playlist is a huge gamble. Enlisting a professional, however, will elevate your wedding day to the next level.
Live music can be fabulous but will rarely get you through the entire day and night, and offers minimal variety. A skilled DJ that specialises in weddings, on the other hand, can provide music for your ceremony right through to after-dinner dancing. Here are five excellent reasons to book a wedding DJ.
---
1. A professional DJ will read your crowd and adapt throughout the day
---
Above all, a DJ is a master crowd-reader. The tempo of your wedding day will vary, and so too should the music. There will be a natural uplift throughout the reception, which will culminate in dancing as your guests relax and let their hair down. There's a time and a place for big tunes, just as gentle background music plays its part earlier on.
Be aware that crowd-reading and adaptability are developed with years of DJ experience – it's essential to choose someone skilled, confident, and capable when it comes to weddings.
---
2. You'll have access to a vast music selection
---
A good wedding DJ is super versatile and will have a broad array of music to suit the entire event. No doubt, you'll want to hear more than one genre played. Guests with a diverse taste in music will be happy to hear things change up throughout the night.
At Mix It DJ, our DJs have 100,000+ songs and the option to create personalised playlists.
---
3. You'll receive a bespoke service and absolute professionalism
---
Your DJ will work closely with you to ensure the music goes off without a hitch, and you get precisely what you want, customised for your event. From timing to genre and song selection, you can be as involved as you like, or you can give your DJ a general idea of what you'd like and entrust them to take the lead.
Using a top-notch company will give you peace of mind, and your DJ will turn up on time, dressed appropriately, with everything they need.
---
4. You won't need to worry about equipment
---
Working with a full-service company means you don't need to organise a thing when it comes to equipment – everything is included, from the lighting, microphone, and sound system.
At Mix It DJ, for instance, we provide a state of the art sound system, wireless microphone for the ceremony and speeches, intelligent up-lighting and we will set up and pack down every everything. Too easy.
---
5. You can enjoy your wedding day and have a hands-off experience
---
An expert DJ is hands-off and reliable – no changing playlists, devices, adjusting equipment or worrying about incorporating live music into the night. You will be able to relax completely, knowing that the music is taken care of.
Ultimately, you want your wedding day to be a seamless experience for you and your guests – and a memorable one. Working with a professional DJ can make all the difference.
---
---