---
4 Gorgeous Floral Themes
---
"A rose can never be a sunflower, and a sunflower can never be a rose. All flowers are beautiful in their own way, and that's like women too."
– Miranda Kerr
Flowers are synonymous with romance and provide an essential visual element for both the bridal party and wedding decor.
Brides in Ancient Rome held or wore floral wreaths with the belief that flowers symbolised loyalty and fertility. Later, in the Victorian era, the modern bouquet as we know it was created when Queen Victoria carried a Tussie-mussie down the aisle: a petite round posy of flowers and herbs carefully selected for their meanings and messages.
Meaningful flowers that are perfect for weddings:
• White roses – new beginnings, purity
• Orchids – beauty and fertility
• Chrysanthemums – honesty and fidelity
• Hydrangeas – heartfelt emotions
• Lavender – luck
• Calla lily – beauty and magnificence
• Red roses – love and desire
• Peonies – romance and marriage
According to Lily at PS. Floral, some modern brides still make their flower choices based on sentimental meaning as well as aesthetics, which is no surprise given the popularity of roses for weddings.
"Most brides tend to lean towards a particular flower, be that a rose or orchid, or they directly relate to a flower that has a significant meaning to them. This is a good base to begin building a floral mood board from, and from here, we can discuss floral choices, colours, and styles to enhance their vision.
It is important to guide a bride around what florals are in season at the time of their wedding; we have been known to move a wedding date to ensure peonies are available for the bride!" The busiest wedding months in New Zealand typically fall over summer – but what's in season? "Summer is an amazing time for lots of gorgeous smelling garden roses, colourful scabiosa, hydrangea, dahlia, lisianthus, and the always amazing phalaenopsis orchids."
---
Tips for choosing your wedding flowers
---
When choosing a floral theme, you'll need to consider the following:
• Personal preferences: what flowers do you love/dislike? Ultimately you need to adore your chosen florals, and the right florist will do their best to accommodate your wants and needs.
• Your wedding day style: are you minimal or bohemian? Using colour or going neutral? Pinterest is a girl's best friend here, providing plenty of inspiration and visual aid to compare styles and colours. Your florist will also provide a wealth of knowledge around what works.
• Ceremony and reception decor: do you have a colour theme? Where do you want your florals to feature?
• Your budget: flowers are an investment for your big day, but it's up to you how much money you spend. Low-cost options like greenery are fabulous for brides who want to keep their spend down.
If you have no idea what you want, your florist can take the reins and create something gorgeous for you that will fit your budget. Be sure to do your research before choosing a florist – check their imagery and testimonials to give you an idea of what to expect from their work.
---
Dreamy Floral Themes
---
Classic white
Undoubtedly a favourite, an all-white floral theme is quintessentially bridal and elegant. You can't go wrong with white – regardless of your dress choice and wedding tones. "White on white remains the dominant floral force for the upcoming 2020 season and leading into 2021," says Lily. "We love putting a classically modern spin in place, ensuring the florals remain trendy but timeless."
There is an enormous range of white flowers available, and you'll easily find something to suit – whether you love clean and minimal arrangements or more of a relaxed feel. White and greenery go hand in hand – see below for more on the foliage trend.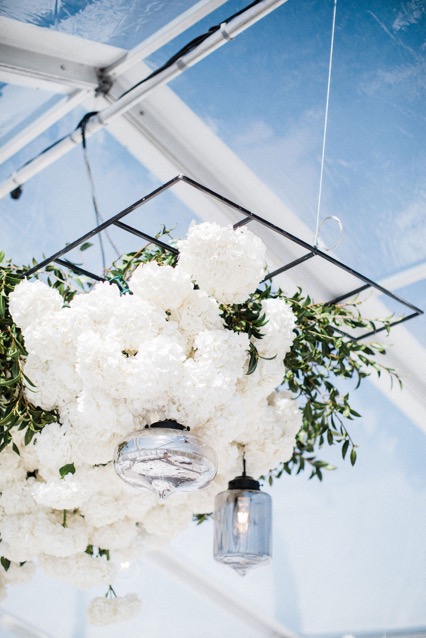 Photo supplied from Blush Flowers
---
Bohemian vibes
The boho bride is a free spirit, eschewing tradition for a more relaxed wedding vibe. The move away from formal, traditional weddings changed the entire bridal game, allowing brides to make unconventional wedding choices.
Boho weddings often have a vintage vibe, and many are held outside amidst nature. Florals are wild, whimsical, and heavy on the romance. Soft pink, peach, burgundy, and white blooms are popular, as is the addition of greenery of all textures.
---
Bold colour
Despite a major neutral-toned trend among brides, brightly hued florals contrast beautifully with a white dress, and if chosen carefully, can complement bridesmaids gowns and make a real statement on your big day.
The PS. Florals team have seen a rise in popularity for colour. "Closely behind the white trend is the choice of a soft pastel under-palette mixed with punchy colours. We are currently working on several summer weddings which utilise soft green florals with a hint of blush and soft blue, oozing romance!"

Photo supplied from PS. Floral
---
Foliage
Using greenery and foliage alone creates a stunning look for any wedding. Another obvious benefit is how cost-effective this option is, especially for larger reception venues that require a lot of decorating. Lush, green "chandeliers" are popular marquee adornments, adding drama and impact without the expense of actual flowers, though your floral team will still need ample time to construct them. Greenery is also gorgeous for arches and other ceremony décor.
A minimalist bride may even choose an all-green bouquet, though many brides still incorporate flowers into the bridal party while opting for greenery for the remainder.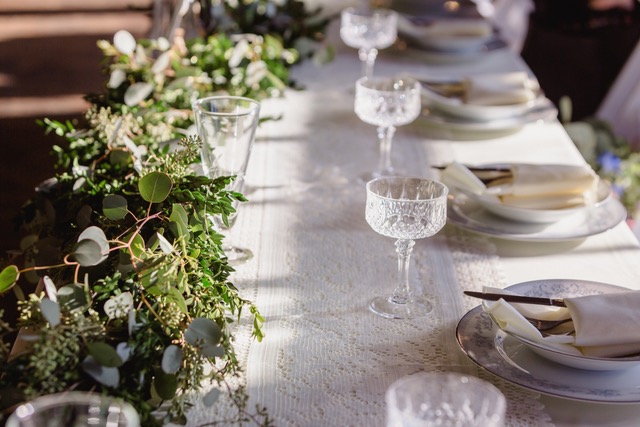 ---
Whatever you choose, you can be sure that flowers will add to the romance and ambience of your day – and put a smile on the face of whoever catches your bouquet.
---
---